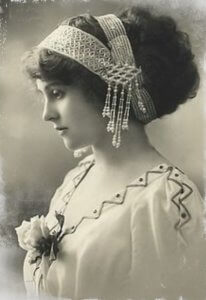 You, Me & Helen Keller (Part 5)
In this installment we continue to identify key elements in our decision-making process based on our re-enactment of events described in Helen Keller's reflections on her childhood experience of learning her first words.1We would suggest that the supporting passages in this article, written in retrospect by a more mature and articulate Helen, accurately express the strength of resolve in the young Helen at the time of these events. Again, we can notice that elements from these events parallel the description obtained by Aquinas as well as topics noted in our sample syllabus.
Thus far, Helen's consent has carried her forward to the cusp of a momentous attitude shift. As Aquinas observed, "a choice still remains open after consent."2The bold and italics throughout are ours.
Let's recall Aquinas' observation (represented schematically below):
But if one (means) alone meets with approval, then consent and choice coincide in point of fact, though they remain distinct meanings, for we think of consent as approval, and of choice as a preference.3Op. cit., Summa Theologiae, Ia Iiae. Q.15, a. 3. 17 of the beginning of the second part.
"Deliberation discloses several means"
↓
"Approval of one means" → "Consent is given to one means"
↓
"Preference is given" → "One (means) is chosen"
Aquinas observed that our what-to-do wonder (consent as approval) finds its full home in the larger reaching of our is-to-do wonder (choice as preference). Choice is a leap that brings about a positive reality that otherwise would not occur.
We find a parallel in how the seven-year-old Helen had formulated one possible means that overwhelmingly met with her approval. The prospect of learning was a possibility to which she gave her resounding consent. She recalls, "I did nothing but explore with my hands and learn the name of every object that I touched."4Ibid., 21. By doing so, she had arrived at the fifth stage of wonder.
How, then, did Helen reach for, and finally arrive at, a decision?
Is-it-to-be-done?
Helen recollects her glee at the discovery of language and the prospect of learning more:
I learned a great many new words that day. I do not remember what they all were; but I do know that mother, father, sister, teacher were among them – words that were to make the world blossom for me, 'like Aaron's rod, with flowers.' It would have been difficult to find a happier child than I was as I lay in my crib at the close of that eventful day and lived over the joys it had brought me, and for the first time longed for a new day to come.5Op. cit., Helen Keller, The Story of My Life, 20.
Sometime during "the close of that eventful day," Helen's 'longing' bubbles up with a fifth attitude shift, an is-to-do question from which she began weighing and evaluating her possible plan. In other words, her plan was conditioned upon further deliberation:
She weighed and evaluated: "As my knowledge of things grew I felt more and more the delight of the world I was in."6Ibid., 20.
The effect gave her  a new sense of self-worth and belonging: "[T]he more I handled things and learned their names and uses, the more joyous and confident grew my sense of kinship with the rest of the world."7Ibid.
Is-insight
And then came a pivotal moment, a sixth attitude shift, an is-insight wherein Helen arrived at a "prophetic vision of the good that would come of the undertaking."8Op. cit., The Story of My Life, 59.
For Helen, this insight grounded a thrilling new reality in which one possibility alone met with approval, wherein consent and choice, in fact, coincided.
Judgment of Value
A seventh attitude shift heralds this convergence of consent and choice (choice as preference) when Helen makes a judgment of value, 'Yes! I will do it!'
She later recalls this great leap forward:
With the dropping of a little word from another's hand into mine, a slight flutter of the fingers, began the intelligence, the joy, the fullness of my life. Like Job, I feel as if a hand had made me, fashioned me together round about and molded my very soul.9Ibid., 10.
Helen's mature reflections reveal that her judgment of value actually involved two simultaneous, complementary judgments. The first regards the good-to-be-achieved. "To what is good I open the doors of my being…."10Op. cit., The World I Live In, 130-1. The second regards the satisfaction of that very judgment: "the force of this beautiful and willful conviction, it carries itself in the face of all opposition."11Ibid., 131.
These re-enactments, and Helen's memories, describe five core attitudes in her decision-making, the detail of which parallels description given by Aquinas, well as topics noted in our sample syllabus. Is-to-do wonder is the fifth of five basic attitudes that can be associated with five meanings of the word why. It is the fifth drive toward making sense of our experience, the occurrence of which we associate with the final cause. The arrow below the diagram denotes the upward direction in which the what-to-do attitude progresses toward the is-to-do attitude.
↑
Our approach in the next two installments will move in parallel lines to our two empirical exercises in The Dynamic of Knowing.12See Journeyism 9 and 10. Our aim will be to help you to verify for yourself that our various examples and illustrations accurately describe key elements of what happens when we make a decision.